ROCKFORD (WREX) – It's been a quiet start to the last full week of 2021, but more active weather is on the way!
Tonight and tomorrow
Tonight remains calm with temperatures between 20s and 30s. The wind has calmed down a lot since the start of the day and will become light and variable overnight. Clouds will begin to accumulate the night before the low pressure system.
There is a pocket of dry air ahead of the system which will prevent precipitation until late tomorrow morning. Temperatures will be around 32 degrees when this begins, meaning any precipitation will fall as light snow to begin with.
The steadiest snowfall rates will be from noon to 3 p.m. tomorrow. Roads and bridges are likely to be slippery due to snow, that being said, if you must travel tomorrow, go slow and easy and give yourself plenty of time to get to and from your destination.
Temperatures rise a bit during the afternoon, any snow will change to a winter mix between 2 and 4 p.m. In terms of accumulations, most of the Stateline should see around one to two inches of snow, while some places closer to the Illinois/Wisconsin border may see up to 3+ inches of snow.
A few lingering rain showers are possible in the second half of tomorrow as the system dissipates completely overnight.
Look forward:
As the system leaves the Stateline on Tuesday evening, Wednesday appears to be a calm day with mostly cloudy skies and temperatures in the 30s.
Wednesday night we could have another round of early evening festive snowflakes continuing throughout the night.
These will be isolated showers, which means accumulations will be less than half an inch. Overnight temperatures will dip between the teens and low 20s for Wednesday evening.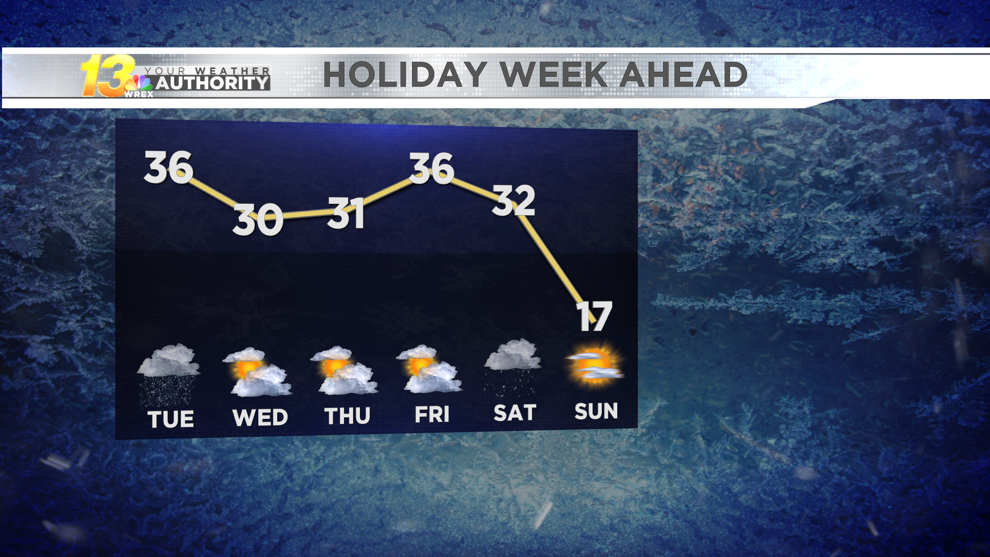 Clouds will persist through Thursday, temperatures will be in the low 30s. On Thursday evening, temperatures drop again in the teens. We stay dry until Friday.
Dry in the New Year? :
There is a chance for an active model in the new year. Although it is still too far to see the exact timing and what it will bring.