STARKVILLE • Melissa Meeder, a second-year graduate student in Mississippi State University's meteorology program, stood in front of a green screen Wednesday afternoon in the on-campus broadcast studio to provide a forecast simulation for Lincoln, Nebraska – the city in which she will soon be working.
The 23-year-old Lockport, Illinois native will graduate next month with a master's degree in geosciences with a specialization in broadcast meteorology. On May 31, she will begin work as a weekend meteorologist at the KOLN news station.
Meeder said MSU's meteorology program gave him a strong foundation in the fields of broadcast and meteorological science.
"Our meteorology classes are really about science and forecasting," Meeder said. "We travel all parts of the country, how do you predict that, so even if you don't end up in the southeast, you're still well prepared to go anywhere else in the country."
That, along with lots of green-screen practice, prepares students to land jobs after graduation, Meeder said.
That's why the Mississippi State program has become one of the nation's premier meteorology programs. A third of broadcast meteorologists working in local news markets have an education there, whether undergraduate, graduate or online.
Origins of the famous meteorology program
MSU's meteorology program began training its first students in 1986.
It started out small, with only a handful of students that first year, but quickly found its niche with broadcast meteorology in the 1990s, as a need developed for on-air broadcasters to acquire scientific skills to prediction.
Mike Brown, a Mississippi State climatologist since 2013 and a professor of meteorology for 20 years, said it was retired professor Mark Binkley who saw the opportunity to offer training specifically in broadcast meteorology.
"He recognized that there were a lot of people on television doing weather forecasting who weren't trained in meteorology," Brown said. "They were very good on camera, but they weren't necessarily scientists. So he saw a need and he reached out to a few people, and they embraced his idea."
Binkley ran with it, developing a program for people who were already, or aspired to be, TV weathermen.
"We set foot in that market first, and really there's still no one competing with us in terms of the number of broadcast students we put out," Brown said.
Today, the meteorology program enrolls an average of 130 to 150 undergraduate meteorology students, from freshmen to seniors, each year.
Training for professions in front of and behind the camera
Like many meteorologists, Jacob Howard's interest in the field grew out of direct experience of the power of weather.
In 2004, when Hurricane Katrina hit the state, his Raleigh, Mississippi home was without power for two weeks and the storm erupted through a window where he was sheltering. Six years later, the "2011 super outbreak" of tornadoes also piqued his interest.
Now 22 at Mississippi State, Howard will graduate in May with a bachelor's degree in geosciences with a major in broadcast meteorology and a minor in communications.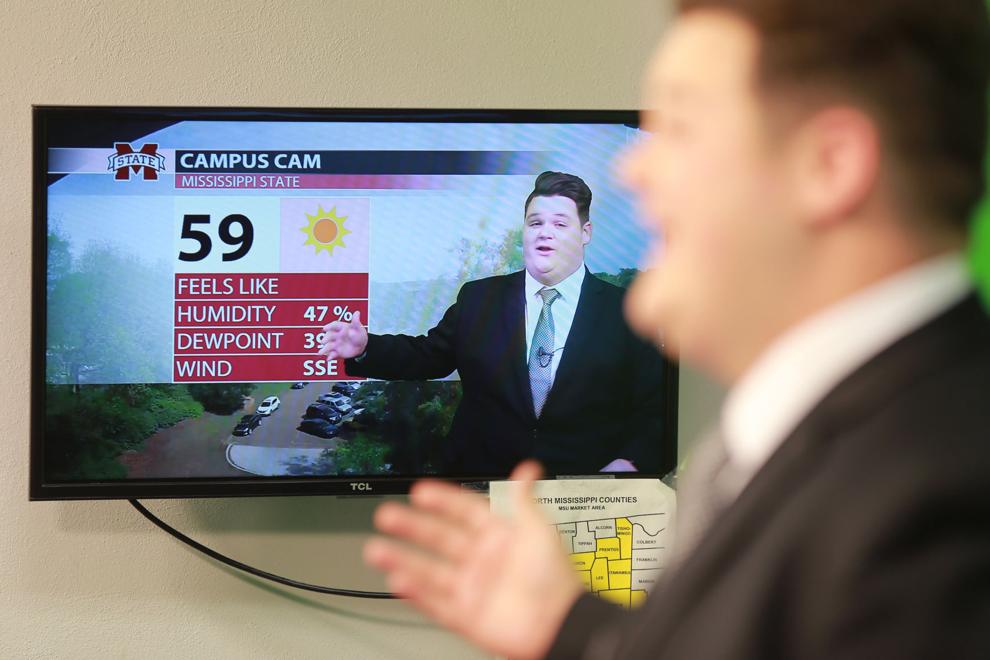 He feels his major and minor prepared him well for on-screen meteorology work. From green screen work and live action shooting simulations to learning how to operate a camera, driving and interviewing, he learned how to tell a story well while forecasting.
While many students, like Howard and Meeder, attend Mississippi State University to study broadcast meteorology, just as many take the "professional meteorology" route.
It prepares students for graduate school and/or a career as an operational forecaster, such as working for the National Weather Service, becoming an aeronautical meteorologist, or doing other behind-the-scenes forecasting work.
Benjamin Henkel, a 22-year-old from Painesville, Ohio, will graduate in May with a degree in geosciences with a concentration in professional meteorology.
Henkel started out as a physics student in his freshman year. In sophomore year, he added meteorology as a double major and eventually dropped out of physics as a junior when he decided to pursue a career in meteorology.
"In this branch of meteorology, you have to apply a lot of what you've learned in physics," Henkel said. "Weather happens everywhere, all the time. It affects everyone's life, and I've always been interested in things like thunderstorms and hurricanes, so I thought, 'Why not give it a shot?' "
Henkel said he had no bad experience with any teacher during his time at Mississippi State.
"I enjoyed them all, each in their own way," Henkel said. "They were all available to me in any aspect I needed help with or just questions about my future. They all offered support in every way."
He plans to earn a master's degree at MSU studying tropical meteorology, followed by doctoral studies at the University of Miami. His ultimate goal is to work at the National Hurricane Center.
Chasing Storms for Course Credit
By the end of a meteorology student stint in Mississippi State, they should be able to take the theories they learned in the classroom and apply them in the field, according to Barrett Gutter, assistant clinical professor at the MSU Department of Geosciences.
He teaches a course that does just that.
This summer, he will lead two field storm chasers in the Great Plains where extreme weather conditions are expected to take place during the summer months.
During the eight-day trip, a group of eight students will travel from southern Texas to North Dakota with Gutter.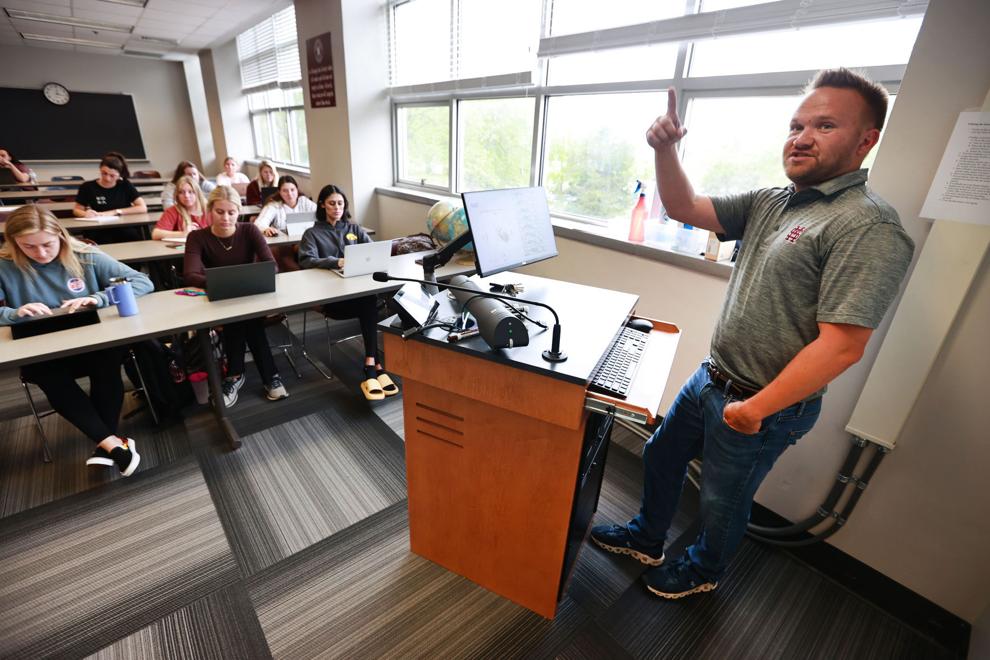 Each day the group will meet for breakfast at their hotel where they will give a weather briefing outlining what is expected for the day. They will review the likelihood of seeing severe weather, what threats – like hail, wind, or tornadoes – exist, and the group will choose a target area to travel to.
They will move into position, constantly monitoring radar and satellite data. Once the storms begin to develop, they will follow them in hopes of seeing the structure of the storm and, eventually, a tornado.
"One of the most enjoyable things about these pursuits is seeing these students see what they've learned in the field textbooks," Gutter said.
He worked at MSU for five years, teaching courses ranging from natural hazards to synoptic meteorology.
Two of its basic classes are weather forecast I and II. The first semester includes many local analyses, forecasts, and techniques, while the second course focuses on regional forecasting, severe weather, and long-range forecasting.
A sunny prospect after graduation
Lindsey Poe, broadcast coordinator and professor in the geosciences department, keeps in touch with former students working across the country.
In her 11 years teaching at MSU, eight of them with the meteorology program, she has seen the vast network of alumni express interest in fostering relationships with current students, which helps them find jobs. .
Brown has seen the same thing in his two decades at MSU.
"It's rare for our students to graduate here without having a job in place," Brown said. "They know the product we produce, so CIOs come to us. Our students don't have to search often."
The wide variety of courses offered to students allows them to acquire all the skills necessary for any type of career in meteorology imaginable.
"We teach all the courses necessary for students to approach all facets of meteorology they want, whether it's broadcasting or the national weather service, working for the private sector, working for an airline or entering academia," Poe said.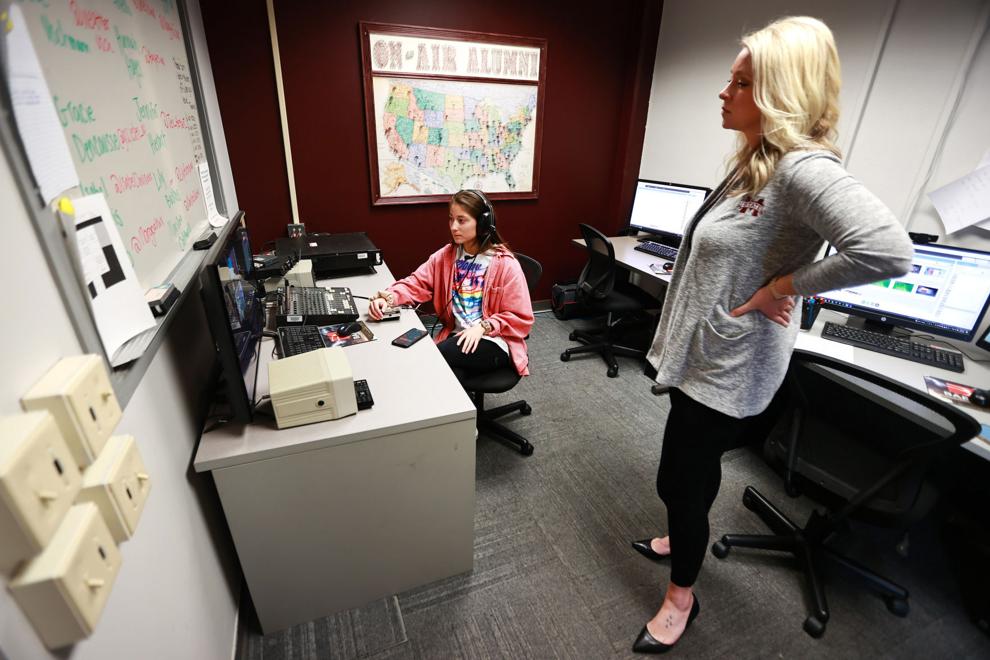 When it comes to broadcasting weather, students with unrestricted access to green screen and cameras are beneficial. But even more valuable is access to instructors with industry knowledge and experience.
"We're not such a big program that our teachers don't know who you are, and I think that's a good thing in such a rigorous program," Poe said. "If you need to go knock on a teacher's door, they'll know your name and say, 'Yeah, let's solve that equation on the board.'"
The most important thing for graduates, Brown said, is to go into the field confident in their abilities. And Mississippi State's meteorology program prepares its graduates for success.
"You know a lot now. Go out and share that information," Brown told the students. "Be confident in what you know, because the kind of work meteorologists do, people's lives and livelihoods depend on its quality and accuracy.