ROCKFORD (WREX) – Freezing temperatures, strong winds and snow continue to impact the Stateline. Tonight, expect dropping temperatures, gusty winds and scattered showers starting before midnight.
A strong southerly wind sets in ahead of a cold front crossing the Stateline later in the night. Due to this configuration, we are subject to a winter weather advisory from 9 p.m. tonight through Wednesday evening.
This evening:
Tonight, expect the wind to continue blowing at nearly 45 mph. All east/west facing roads are expected to be dangerous to drive due to wind and snow drifting onto the roadway.
Flurries begin between 10 p.m. and midnight and will be light in nature. However, due to very windy conditions, these showers will only exacerbate the deterioration of conditions.
Behind the cold front, expect a period of arctic cold where the high temperatures of the next few days are barely coming out of the teens!
Overall, if you must travel tonight, slow down and exercise caution when traveling on east/west facing rural roads.
Tomorrow: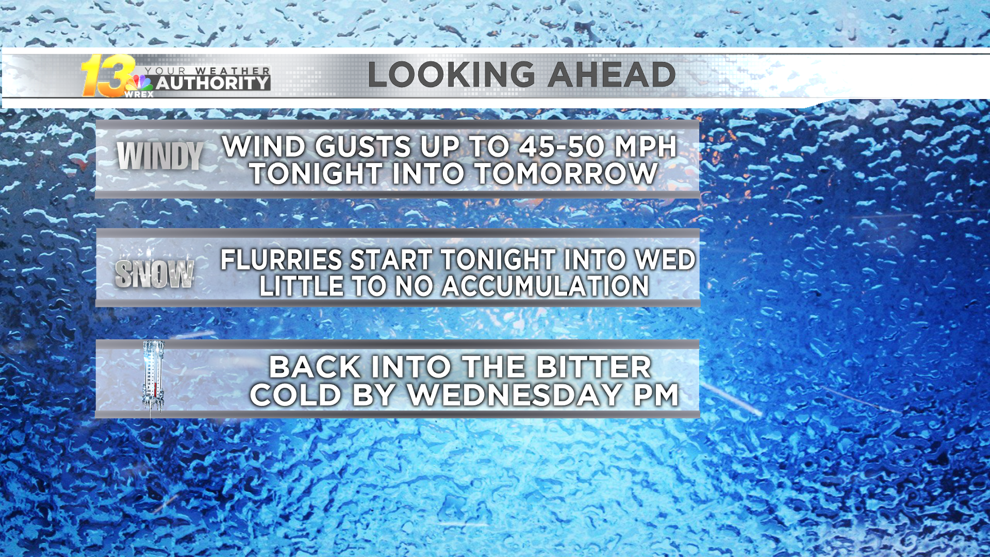 Once this cold front has passed, the winds change direction around midnight and gusts reach nearly 80 km/h. Flurries are expected to continue into the day and evening Wednesday.
Winds are shifting westerly as the front passes, meaning any north/south route will be dangerous to navigate throughout the day.
Temperatures will drop from the low 30s to the teens tomorrow morning and will continue to drop into the single digits across the Stateline.
Overall, if you have to travel anywhere tomorrow, slow down and be careful when traveling on north/south facing rural roads.
The cold wave continues: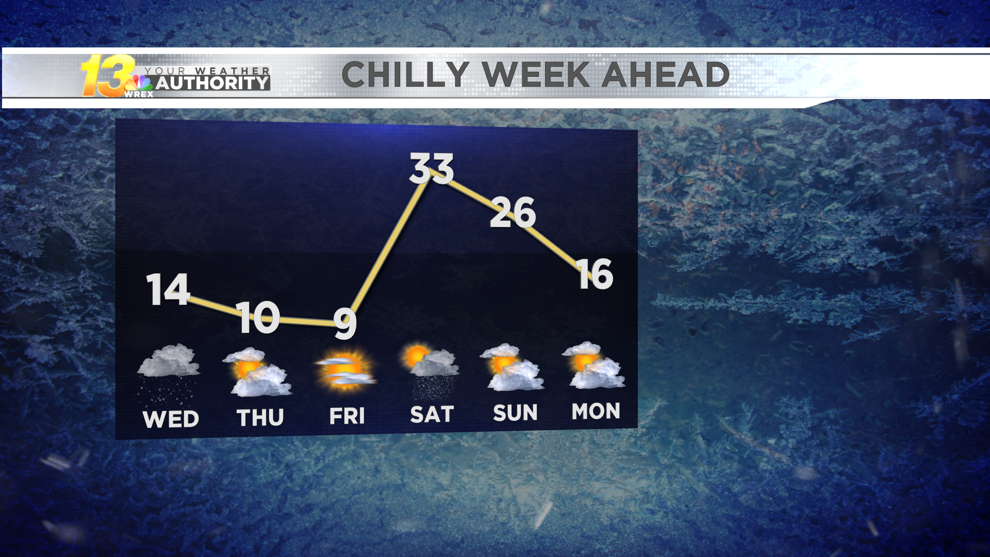 Wednesday evening temperatures will still be in the single digits with wind chill readings between 10 and 15 degrees below zero!
Temperatures continue to be in the single digits for Thursday and Friday.
Look forward:
A high pressure system returns for the end of the week. This allows temperatures to climb to the mid 20s to low 30s with mostly sunny skies and little to no precipitation to complete the first full week of 2022.